The Naxos
'The choice of versatile worktops and accessories are practically limitless.'
The clean and minimalistic aesthetic continues to be the cornerstone of style for kitchens across the country with bright and simple finishes remaining at the top of customers' wish lists. Modern, minimalist design is what everyone is after, yet bright doesn't necessarily mean white as our 'Kitchen of the Month', the Naxos demonstrates.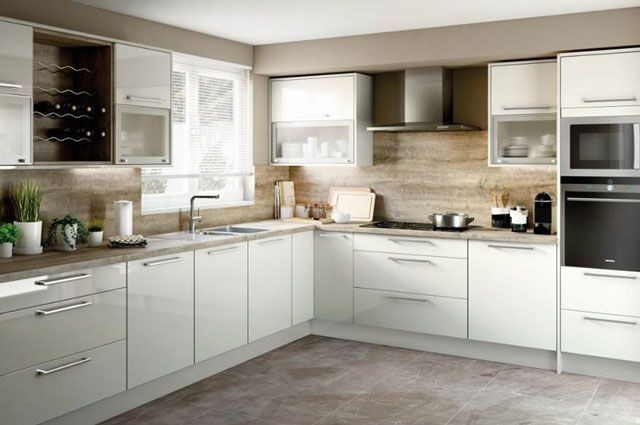 The cream gloss finish can have the same space-enhancing qualities as a white kitchen while also lending a softer and warmer look. The Naxos is elegant and understated while also remaining versatile enough for splashes of individual personality. A practically limitless choice of worktops and accessories gives kitchen owners the opportunity to really make this kitchen unique to them and their family.
The glass feature doors, shown here lift upwards and have an opaque glass with aluminium surrounds giving the design a contemporary and sophisticated feel.
Another key feature that the elegant Naxos boasts is the mid-high units which can be incorporated in to your dream kitchen design. Having cooking appliances in an easy to reach spot is the perfect solution to maximising space and improving the cooking experience.
The Naxos has been crafted to provide a bright and welcoming space for unforgettable moments, making your kitchen the hub of the home.
At The Panelling Centre we want to make your dream kitchen a reality. To place an order, visit your local branch and speak to any one of our kitchen design or trade experts.
To find out more about The Panelling Centre's products and services, visit www.panellingcentre.ie, contact your local tradesman or drop in to your local branch to speak to one of our representatives.
*All images are for illustrative purposes only