In-House Appliance Centre presents the must-have kitchen appliances and accessories for Christmas 2019
We are all looking forward to the festive season, catching up with old friends and creating precious family moments. But if you're the one hosting it isn't always easy. To make sure you survive the silly season, In-House Appliance Centre has devised the perfect wish-list of appliances and kitchen accessories that will make life a little bit easier and transform you into a star host this Christmas.
First up is a must-have for any home gathering. If you find yourself boiling the kettle every ten minutes while entertaining guests, then this is the product for you. The Quooker Boiling Water Tap instantly makes a pot of tea. Avoid waiting around for the kettle to boil with this exciting and innovative addition to the kitchen. The tap is Teflon insulated so cool to touch and has a child-proof mechanism, endorsing safety in the kitchen environment. We know this product is going to be a gamechanger for Christmas 2019.
Our second pick is the Induction Hob with Flexi Zone, the ideal solution to slow cooking your Christmas ham. Effortlessly combine two cooking zones into one at the touch of a button. Perfect for cooking with larger casserole dishes, the flexible induction cooking zones can be expanded or reduced to suit your requirements, all through the hob's modern touch control panel. In-House Appliance Centre stock the top of the range brands from Miele, Siemens, Neff, Bosch, and Wolf.
Another appliance that we can't recommend enough is the Combi Full Steam Oven. This revolutionary technology allows food to cook faster, heating your ingredients more evenly and retaining moisture and colour so your Christmas dinner turns out delicious and vibrant.
The best thing about combi-ovens? You can wave goodbye to the microwave, a combi-oven removes the need for a microwave by offering the same settings such as defrosting and reheating, with better results. This piece of kitchen technology regenerates food, achieving the same quality and taste as a fresh meal through reheating.
So, you and your guests will be looking forward to second helpings of Christmas dinner on St. Stephen's Day. At In-House Appliance Centre, customers can find a range of combi-ovens including the Neff Combination Oven with Steam and Microwave which expertly cooks and regenerates foods.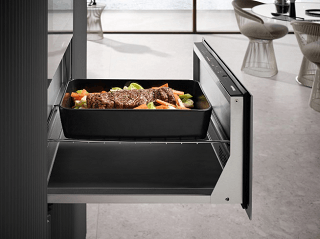 Next up is the range of Warming Drawers available at the Appliance Centre, they are a great addition to the kitchen for customers who enjoy cooking and hosting dinner parties, not only during the festive season but the whole year-round. Easy to purchase and comes with little to no installation, these convenient drawers are ideal for keeping food and plates warm while hosting. The Miele Gourmet Warming Drawer goes one step further and enables you to slow cook those difficult to measure meats. Other uses include proofing yeast dough, melting chocolate and dissolving gelatine.
In-House Appliance Centre also stock a range of ready-to-buy kitchen accessories including extractor fans, pots and pans. We always dvise that customers invest in a good extractor fan, one which reduces noise and has good lighting. An appliance like an extractor fan can be a quick and easy change before the festive season kicks in but will make all the difference to the atmosphere in your kitchen. The BergHOFF pots and pans range are perfect roasting dishes for all your Christmas dinner needs, and available now at a discounted price.
All the products featured are available in-store at In-House Appliance Centre. For experienced advice and guidance to help you choose the most suitable appliances for your home or building project, make an appointment with our long-established appliance expert Geraldine O'Donoghue by emailing This email address is being protected from spambots. You need JavaScript enabled to view it. or call 01 268 6915
To find out more about In-House Appliance Centre's products and services, call in to the showroom or visit https://www.panellingcentre.ie/in-house-appliance-centre.html
*All images are for illustrative purposes only