Here at the Panelling Centre we understand the festive season can be a very busy time of year. We see many of our customers making changes to their kitchen units in preparation for hosting guests over Christmas. From big family gatherings to glamorous NYE parties, our beloved kitchens can see a lot of action throughout the holidays. We've created these easy to follow steps to keep your kitchen looking in tip top condition. We've also answered your most commonly asked questions when it comes to kitchen maintenance.
Here at the Panelling Centre we often get customers asking us for our top tips for keeping kitchen doors looking as good as new! Please see our expert advice below:
1. Guide to cleaning your Timber, Painted Timber or Veneered Doors:
To effectively and efficiently clean Timber, Painted Timber and Veneered Doors we always advise using a mild solution of water and a nonabrasive household detergent. Once the area is clean, wipe the area over with a soft damp cloth to remove any excess cleaning product. Then finish the cleaning process and dry the door with a clean, soft cloth. We always advise our customers to steer clear of abrasive or aggressive cleaning products as these types of products can cause permanent damage to the surface. It is also very important to note that water should never be left on the surface of a door for any length of time. One of our top tips when cleaning your doors is to always follow the grain pattern of the timber!
2. Guide to cleaning your Glass Door:
We strongly recommend using a non-abrasive window cleaner to clean your glass door. Harsh scouring powders, solvents abrasive cleaner should be avoided at all costs. If your door is leaded, extra care should be taken when using products around the lead. Although moisture won't harm the door, to preserve the longevity and quality of your door we always recommend that you wipe any spillages immediately.
3. Guide to cleaning your Gloss/Matt, Melamine and Foil Wrapped Doors:
Just like our advice for Timber and Glass Doors, abrasive cleaners, bleach and other aggressive cleaning products should be avoided when cleaning any Gloss / Matt, Melamine and Foil Wrapped Doors. Instead we urge our customers to use a mild solution of water and a non-abrasive household detergent. Once the area has been cleaned, wipe the area with a clean damp cloth and finally dry the area with a soft clean cloth. As with the other styles of doors we stock, water should never be left sit on the surface of the door, we highly recommend that customers dry any damp surface immediately.
Laminate countertops are an extremely popular option and around 80% of our customers choose laminate when installing their kitchen. Fortunately, laminate is extremely durable, stylish and most importantly easy to clean! Please see our expert recommendations below for keeping your laminate counter tops in tip-top condition.
Do:
Always use cutting boards or a butcher's block when using knives
Use placemats to protect your laminate countertop from heat
Use appropriate cleaning products designed for laminate
Always clean up any spills and messes as soon as possible
If there are any stubborn stains on your laminate countertop, we recommend using an organic solvent such as acetone on a damp clean cloth to remove the stain and then wiping the surface with a clean damp cloth once the stain has been removed
Don't:
Clean your laminate countertop with harsh products such as powdered cleaners, scouring pads, steel wool or scrub brushes.
Use knives, meat tenderizers or similar kitchen utensils on your countertop without a cutting board underneath
Use bleach on your laminate countertops as it could discolour the surface
Lastly, here are some of the commonly asked questions when it comes to the care and maintenance of Quartz, a beautiful and popular option for kitchen counter tops.
1. How do I remove grease stains?
We advise that you dilute a small amount of warm neutral pH detergent and rub the stain with a clean cloth in a circular motion. Once the stain is gone, finish off by rinsing the area immediately with clean water.
2. How do I remove the remains of common household products?
Food, fruits and vegetables
Soft drinks
Sauces
Gum
Makeup and nail polish.
If any of the above common household items leave a stain on your Quartz countertop, we recommend that you remove the residue with a plastic spatula immediately. After this step, it is important to then remove the debris with a damp cloth and apply a mild detergent. After the stain has been removed, rinse with clean water to finish.
3. What chemicals or cleaners are not recommended to use?
We strongly advise our customers to avoid using paint stripper, caustic soda, degreasing, products with pH above 10 or chlorine-based cleaning products. We also urge our customers to not use products containing hydrofluoric acid or dichloromethane under any circumstances as they are very harmful to Quartz. If you use bleach or solvent based products, we advise you rinse with water and clean area after a few seconds.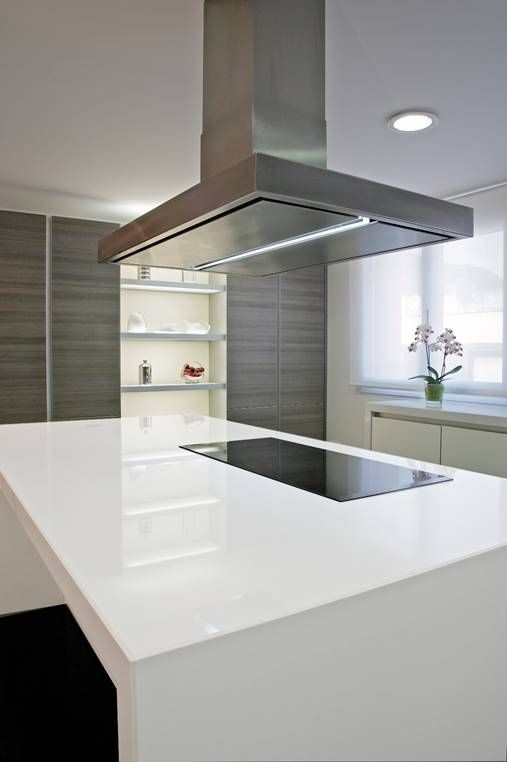 We hope you have found our expert advice helpful for keeping your kitchen looking in tip top shape over the busy festive period. As always, if you have any additional queries that haven't been answered above please feel free to get in touch with us and one of our team members will be happy answer any questions you may have.
To find out more about the Panelling Centre's products and services, visit www.panellingcentre.ie, contact your local tradesman or drop in to your local branch to speak to one of our representatives.
*All images are for illustrative purposes only