Everything You Need To Create The Kitchen of Your Dreams
When it comes to kitchens, the wealth of choice can be overwhelming – especially if you do a deep dive through Pinterest, only to come out the other side more unsure than when you began. You've got the cabinets, the appliances, the tiles, the flooring, the accessories – there's a LOT to consider. Sometimes, with a decision that's as big as your kitchen, you need a little help from the experts and you need that help to come from one reliable source.
Burbidge Kew – Solid Ash Painted, Bevelled Shaker Style
This week team GAFF went to The Panelling Centre in Santry to get the low down on curating your perfect kitchen. We found out about the latest kitchen trends – what's hot and what's not – as well as checking out the incredible, GAFF approved Burbidge Collection which is exclusive to The Panelling Centre and its various Irish locations.
Trends wise, if one thing's for sure, it's that the Shaker style kitchen will always be in fashion. Yes there are plenty of ultra modern alternatives but the way we see it, your kitchen is not something you're going to want to change or tire of within ten years. The shaker style kitchen – as seen here with the Burbidge Collection – stands the test of time. As for how to keep things looking and feeling contemporary? That's where you bring in colour, finishes, accessories and of course – the all important tiling.
Burbidge Barnes – Solid Ash Painted, Traditional Shaker style
Within the Burbidge Collection, there are over 25 luxury painted doors available in five distinct styles. While five might sound like very little – these five tick the box of every kitchen style imaginable: trust us. If you like to keep things simple and classic, you'll choose from 'The Simply Burbidge' range which includes the Kew, Finsbury and Barnes style of cabinet doors. If you're a divil for all things modern, however, you'll be weak for either the Malmö or the Otto, as part of their 'Contemporary Collection' range. Both are incredibly sophisticated. Becoming almost as popular as the shaker style kitchen, these elegant and contemporary choices are ideal for those who crave a seamless aesthetic without the need for door knobs or handles.
Check out those copper pendants!
Colour wise, dark grey has been firmly in the lead for the last few years but now, as the experts at The Panelling Centre tell us, navy tones and calming greens are rising to the fore. We're also seeing less kitchens that are fully cream or white, but more confident choices that mix colours together. For example, you could strike out with a navy island colour and keep the rest of your kitchen pared back with a light grey.
Burbidge Finsbury
Classically styled with beaded frame detailing, Finsbury is guaranteed to draw the eye and sits wonderfully in contemporary and traditional homes, both large and small.
At The Panelling Centre it's not just about the kitchen cabinets; what you might not realise is that it's a one stop shop for your every kitchen need. From appliances to extractor fans to stylish options when it comes to your taps – they even stock one of our most lusted after kitchen accessories: the instant boiling water tap – you'll find everything under one roof. You can even get your floor and wall tiles sorted here, and if that wasn't enough you can pick out your lighting fixtures (we spotted gorgeous copper pendants) and your knobs and handles here too. This takes a huge amount of the hassle out of designing your kitchen: you don't need to involve several companies with too many cooks in one kitchen (and yes, that pun was totally intended). You can get it all mapped out in one sitting.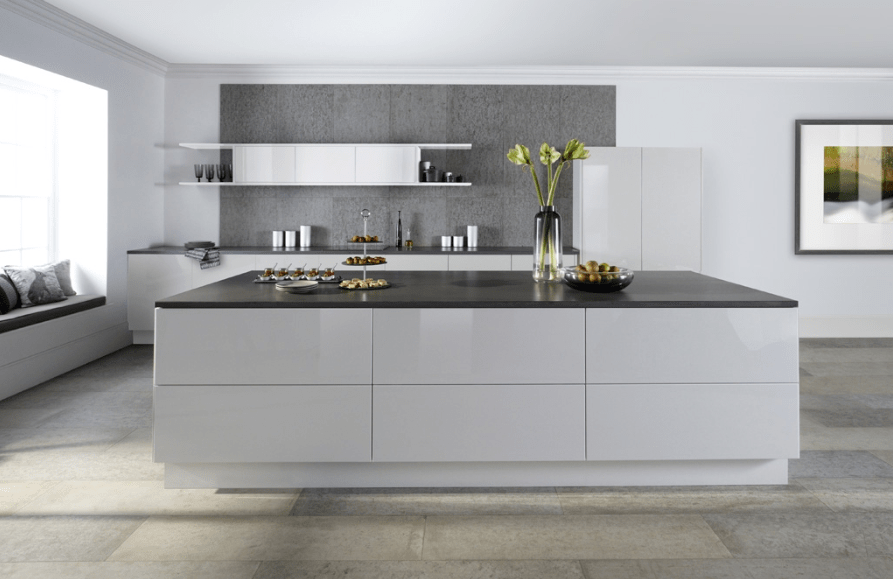 Burbidge Otto. Modern geometric styling and a crisp handle-less form come together in this popular minimalist design. Otto's beautifully-engineered laminate materials have been specified to create wonderfully realistic timber and concrete finishes that add texture and woodgrain warmth or choose a painted option to add a pop of colour to your room.
The process is incredibly easy too. Pop into the store with your floor plans and sit down with one of their experts for up to an hour and a half to create your dream kitchen. You will get to see exactly what the kitchen will look like before you make any final decisions and then, depending on the range you choose, it could be with you in up to four weeks. The Panelling Centre work with a range of installation experts if you need advice on someone to get you all fitted up, or you can work with your favourite go-to handyman (we all have one!).
Burbidge Malmo – There is a modern simplicity to the handle-less Malmö. Choice of smooth matt or gloss finishes provides an inspiringly blank canvas for colour and you can choose from an extensive palette of cool pastels, warm neutrals and the sultry rich tones to create your preferred kitchen mood.
Check out the Gaff Interiors video tour of the Burbidge Collection at The Panelling Centre over on our Instagram – complete with a q&a with our head designer Dave – and be sure to follow The Panelling Centre on Instagram for more inspiration.
Visit https://www.panellingcentre.ie/contact-us.html more information on locations across Ireland.