BESPOKE
Custom made to suit your particular needs.The charm and nostalgia of a pantry also has a practical, utilitarian purposeIt creates valuable storage for tableware, serving pieces, table linens, candles, wine and other dining-room articles.Or it can be designed to store foodstuffs not requiring refrigeration.Our solid oak pantry is a thing of beauty, with exquisite attention to detail and a superb finish.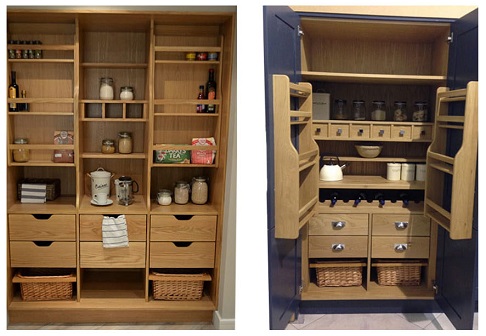 WALK-IN or OPEN-OUT
As a walk-in you can re-dedicate an existing utility room and customise the layout to suit your needs. If there is depth for a worktop, appliances such as a toaster, kettle, mixer, juicer, coffee machine or small microwave oven can be accommodated.
Or you may prefer built in tall units as part of your kitchen cabinets to house an open out pantry. These can be of solid oak, pullout drawers, bins, chrome wire works or combination of fittings.
SLIDE to HIDE
Clever sliding door panels and kits come in a large range of colours and finishes to match or complement your kitchen units. Appliances such as a fridge, a dishwasher or a washing machine, dryer and laundry equipment might be incorporated.